Public Climate School for the winter semester 2020/21
The Public Climate School (PCS) 3.0 is an open university for all people who want to learn more about climate justice. We show how a timetable could look like that makes utopias and visions possible. Scientists* and experts* from a wide range of disciplines organize exciting lectures, discussions and workshops on the following school subjects:
Social Change and Utopias
Program points for example:
How has social change taken place historically?
Critical Environmental Psychology
How-to-Transformations
Structural change from below
Alternative concepts of life (living, consumption, love etc.)
Commons/Allmende
Offering rooms to dream about
Activism today
Program points for example:
Introduction: What is activism, what can it do and what has it achieved?
How do forms of discrimination manifest themselves within the climate justice movement? And what can we do about it?
How-to avoid burn out – healthy activism (selfcare or similar)
How do I become active? Forms of activism: On the street, in the supermarket, in society, civil disobedience etc.
Feminism in climate justice movements
Where the climate justice movement finds natural allies
How can we get people outside our bubble to become activists?
Education and Climate Science
Program points for example:
Climate Change
Climate Justice
Energy, mobility and/or agricultural turnaround
Living and building in the future
Science Communication
Questioning our education system
Where and how does education happen?
Education for Sustainable Development
Climate Justice
Program points for example:
Introduction: Environmental protection, climate protection
Climate justice – What is this all about?
Introduction/Panel: How a climate-friendly world view could look like (and what currently stands in its way)
Structural discrimination and why a climate movement must also work against it
Differences Global North/South and responsibility of the Global North
The role of colonialism
intersectionality
How do the scissors in Germany continue to diverge? And how can we change this?
SOS Amazonia
Art & Culture
Program points for example:
Literature and readings
Poetry Slams
Music contributions
Performing arts: giving expression to activism
Visual arts: the power of banners
Can/should/must art always be political?
writing workshop, street art, art projects
Rethinking Economy
Program points for example:
Introduction: Why capitalism and climate justice are in conflict
Introduction: (historically oriented) The history of capitalism in relation to colonial history, fossil fuels, class struggles and social inequality
What are the visions for a post-capitalist economy?
Freedom of exchange logic
De-Growth
Socialism, Ecosocialism
Commonwealth economy and the power of the commons
Ways out of the crisis; how do we overcome the capitalism of today?
Politics & Philosophy: We strike & you act (not)
Program points for example:
Citizens' councils, initiatives, climate change city etc. – Forms of local citizen-driven change
Lobbying and the inertia of the status quo – How we can overcome these resistancesWhere does power really lie in society today?
What is the role of politicians in our society? What do we ascribe to them, what is ascribed to them and what do they ascribe to themselves?
Political ethics
5 years Paris Climate Agreement
Buen vivir – What we can learn from movement
The Good Life for All – What is it and how do we achieve it?
Be a part of it, so that you
are brought up to date with the latest scientific findings
become argumentationally confident against climate change deniers
deal with topics such as racism, feminism and structural discrimination
discover interesting professional fields
develop solutions for ecological, social and economic problems
and meet other committed people.
Why: We are running out of time. The global temperature rise will soon be unstoppable below 1.5 degrees Celsius. In order for us to shape a future worth living in, we must stimulate an ecologically sound social transformation.
Take part in our PCS winter semester program. Due to the recommendations of the scientific community, this will take place completely digitally. Numerous Students for Future groups from many cities in Germany & Austria will be putting together events for a joint PCS live program from 23-27 November 2020.
PCS Livestream from 23.–27.11.2020
No Registration necessary, everyone can watch live via YouTube. More Information about the events can be found in the calendar.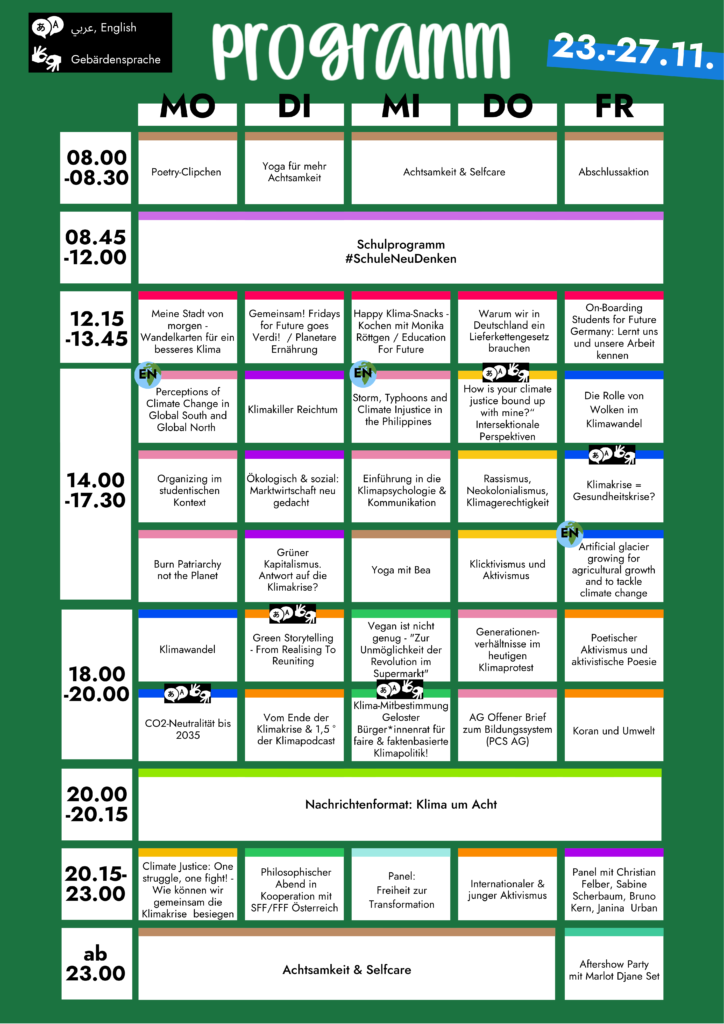 👋 : German sign language integrated
EN : English interpretation available
عربي : متوفر باللغة العربية
Show technical notes
No additional setup is required for the normal PCS livestream, it will run via YouTube. There will be moderators present who will supervise the chat and pass on questions to the lecturers.
For all other programs, a camera and a microphone might be useful. The following notes apply:
Big Blue Button: with BBB no registration and no download is necessary. Only a link is needed for participation. The participation is then done via your browser (e.g. Firefox).
Jitsi Meet: no registration and no download is necessary. The participation is done via link from your browser (e.g. Firefox).
Microsoft Teams: you need a Microsoft account and the application MS-Teams.
Webex Webinar: use the link (in the timetable), or meeting ID and password to join and enter a name and email address. No download is necessary. Participation works through your browser.
Zoom: you need to download Zoom as an application. Registration is not required. Then click on the zoom link, or enter the meeting ID and password (both are shown in the timetable). Please deactivate your camera & microphone when starting the meeting
Please plan a little time for all these steps so that we can start the events on time!
#PublicClimateSchool
Sponsors & Supporters
Similar Events
Program of the Plenums in…
---
Throwback
The PCS took place digitally for the first time in the 2020 summer semester, in order to make an open climate university for everyone possible even during the pandemic. From 25.05.-29.05. a livestream was broadcasted, which was compiled from scientific lectures of various Students for Future groups.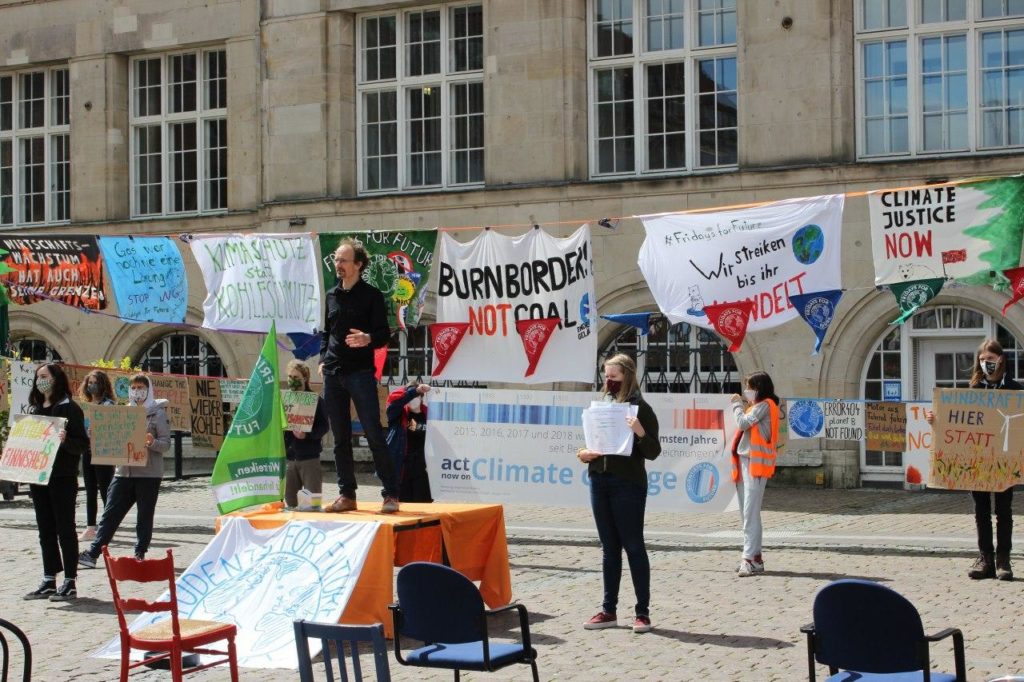 The PCS took place for the first time in the winter semester 2019/20 from 25-29 November at over 40 German universities and colleges. With regard to the climate crisis, numerous students signed an appeal for a university strike, and numerous scientists* signed an appeal for its support.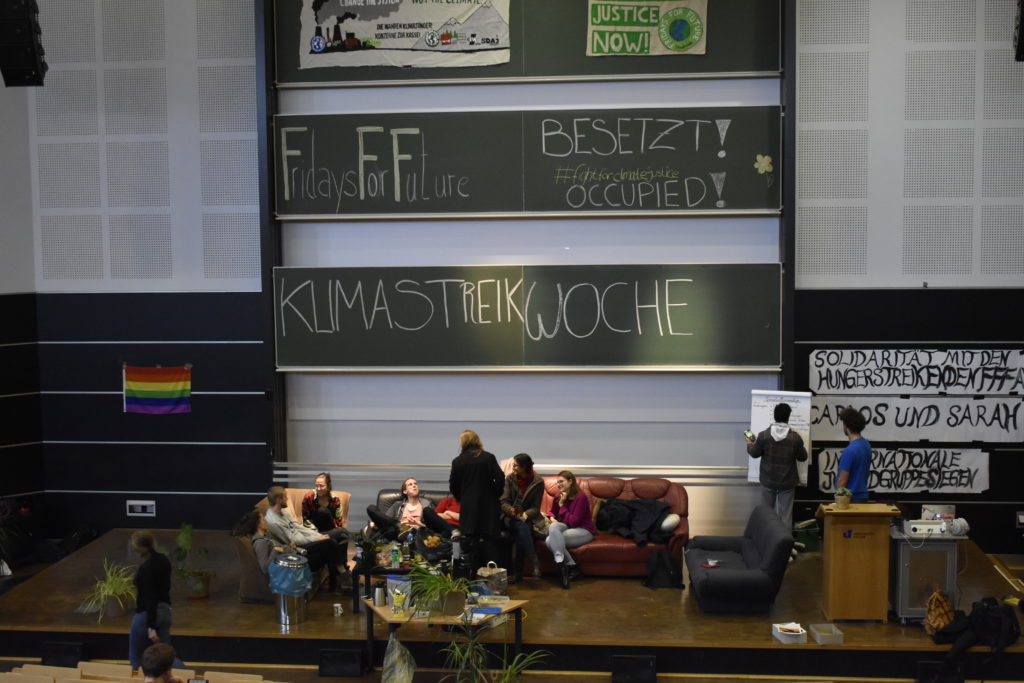 Call to action
Dears Professors*, Dear Universities/Colleges, Dear Active People,
the winter semester has started! We from Students for Future (SFF) would like to organize a nationwide Public Climate School (PCS) from 23.-27.11.20 again. For this we need your commitment and your support!
During the Public Climate School, lectures are to be adapted thematically so that the climate crisis is given the importance it requires for one week. In almost every subject area there is a direct link to the topics of climate justice, climate crisis/protection, climate policy and sustainability. Therefore, we would like to ask you to devote the sessions of your courses during the PCS to the challenges mentioned above. This can range from the presentation of interesting papers, to the complete redesign of your lecture, to the invitation of external speakers*. You are welcome to support us additionally by giving further lectures, workshops or the like.
Ebenso möchten wir auch Personen und Institutionen über Unis und Hochschulen hinaus an der Public Climate School beteiligen. Wir freuen uns über alle Beiträge von Redner*innen mit sozial-ökologischer Expertise. Ebenso freuen wir uns über Institutionen, die uns bei der Umsetzung eines digitalen PCS Rahmenprogramms (z.b. Abendveranstaltungen wie Filmabende, Diskussionsrunden) unterstützen möchten. We also want to involve people and institutions beyond universities and colleges in the Public Climate School. We welcome all contributions from speakers* with socio-ecological expertise. We are also pleased to hear from institutions that would like to support us in the implementation of a digital PCS support program (e.g. evening events such as film evenings, discussion groups).
If you would like to participate in the Public Climate School in WiSe 2020, please send us feedback using the following e-mail form.
In addition, we would like to inform professors* and universities at an early stage that we plan to organize further Public Climate Schools in the coming semesters. We would therefore be very grateful if you could keep climate justice in mind when planning future courses.
Climate activist Greetings

Students for Future Germany
Kontaktformular
---
Downloads
Profile Picture Generator
Sharepics
Posters/Flyer
Slides
Sharepics for Events
Coming soon …
Fanart
Room for your fanart …
---
Aims of the Public Climate School
Die Public Climate School (PCS) wird von unabhängigen Ortsgruppen der "Fridays for Future"-AG Studierende organisiert, die gesammelt als "Students for Future Germany" auftreten. The Public Climate School (PCS) ist organized by autonomous local groups of the "Fridays for Future"-WG "Students", who collectively appear as "Students for Future Germany".
The PCS is intended to contribute to making universities, as a place of research and education, open to all people, to make the topic of climate justice accessible to all parts of society, thus to network the climate movement more intensively and to spread the word. In addition, it should be pointed out that a fundamental change in our educational system is needed to be able to meet the challenges of the future. We want to create events, share experiences, collect and make materials and digital content available, and offer support to everyone interested. The goal of PCS WG is to create a space for exchange and cooperation in order to benefit from the know-how of all and to jointly implement great actions and lecture formats in which all individual ideas can find a place.
---
Page translated with DeepL Translator (free version)